People are seeking for evidence that the website that their visiting is safe from cyber threats , due to the increase of cyber threats. According to a new Globalsign research, 90 percent of people are more willing to believe a website that includes security indicators such a padlock. That's exactly what easywp free SSL Certificate provides.
EasyWP Turbo & Supersonic currently offer a free Sectigo SSL Certificate, as long as you host your website on nameheap easywp. This is a significant improvement over their previous SSL solution, as well as a significant advancement for our industry.
SSL secures the connection among the browser used by visitor and your website. The additional security layers secure consumer privacy and avoid data leakage on both small and large websites. Furthermore, it demonstrates to your visitors that you value their security right from of the website URL.
When you add in the new UI for installing as well as managing Ssl, you've got next-level protection that's both free and easy to use.
Everyone should use PositiveSSL.
Sectigo, the leading commercial Ssl Security Authority, offers PositiveSSL as a product of SSL. Sectigo introduced 'PositiveSSL' to give small business owners a simple and easy solution to protect their digital payments and establish online credibility.
Easywp understand that starting a business is difficult, especially with rising costs like cybersecurity. That is why they provide free PositiveSSL Certificates to individuals and businesses who are concerned about their cybersecurity. With such a free PositiveSSL, customers can be assured that their website is secure without spending a dime.
PositiveSSL is also very simple to set up on both your domain and the EasyWP website. You may have a ssl certificate with only few steps on the dashboard. See the instructions lower later in the article for further information.
Your visitors will have more faith in you if you use SSL security.
SSL is a crucial tool for driving sales and establishing trust with your visitors. The URL is prefix with HTTPS (the additional S indicates for security) rather than HTTP whenever the website is encrypted with SSL. A padlock also will appear in the url bar of your visitor's browser, indicating that your connection is safe.
SSL is vital for more than just security. Google announced in 2014 how https has become a ranking indication, so a website which uses SSL will have a little search advantage. Per year later, Google disclosed that HTTPS could break the relation among two search results that were otherwise equal. When the website is comparable to your competitor's in terms of the content, performance, and other factors, showing HTTPS may help you rank better. SSL is an essential for your website if you really want to maintain a competitive advantage in search queries.
In a matter of minutes, you can install PositiveSSL to your website.
It's simple and quick to integrate PositiveSSL with EasyWP. Certificates are usually given and applied in 15 min or less. There are no legal documents involved. All you have to do is go through an automatic verification process that mainly checks at domain owners.
Sign in to your EasyWP account. Go to SSL Certificate then select 'Manage' from the dashboard.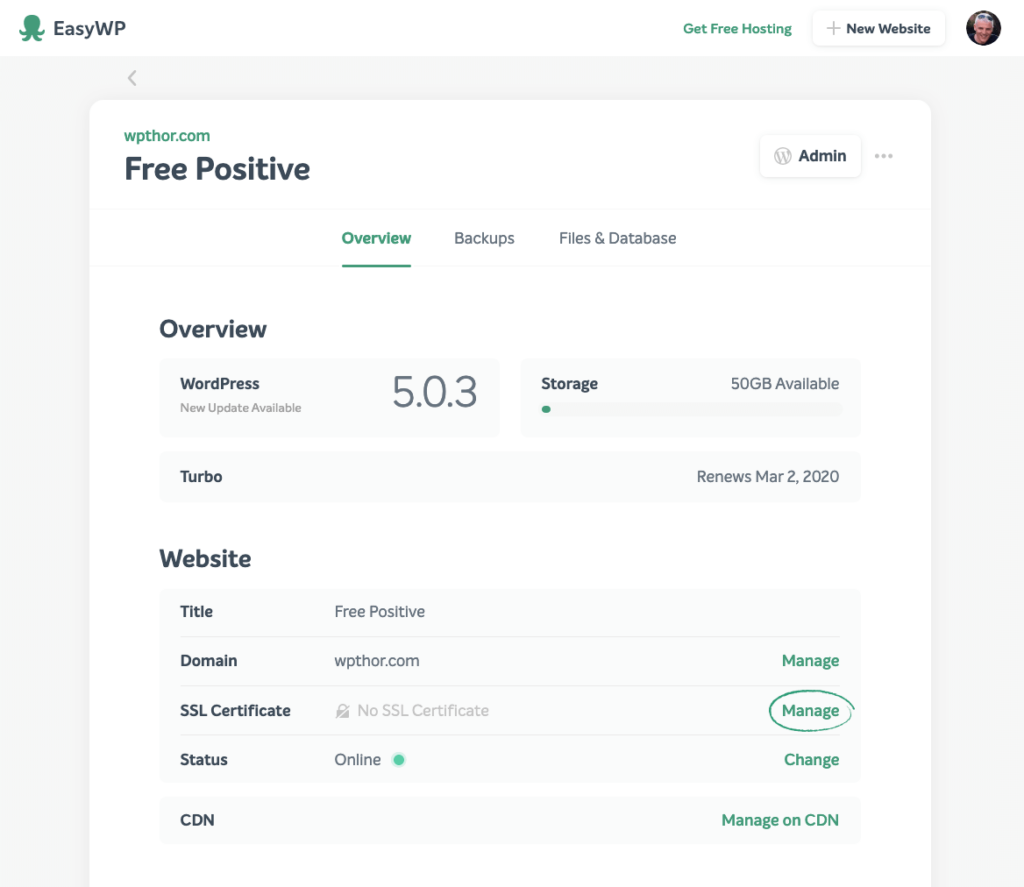 Choose 'Free PositiveSSL' from the Add menu.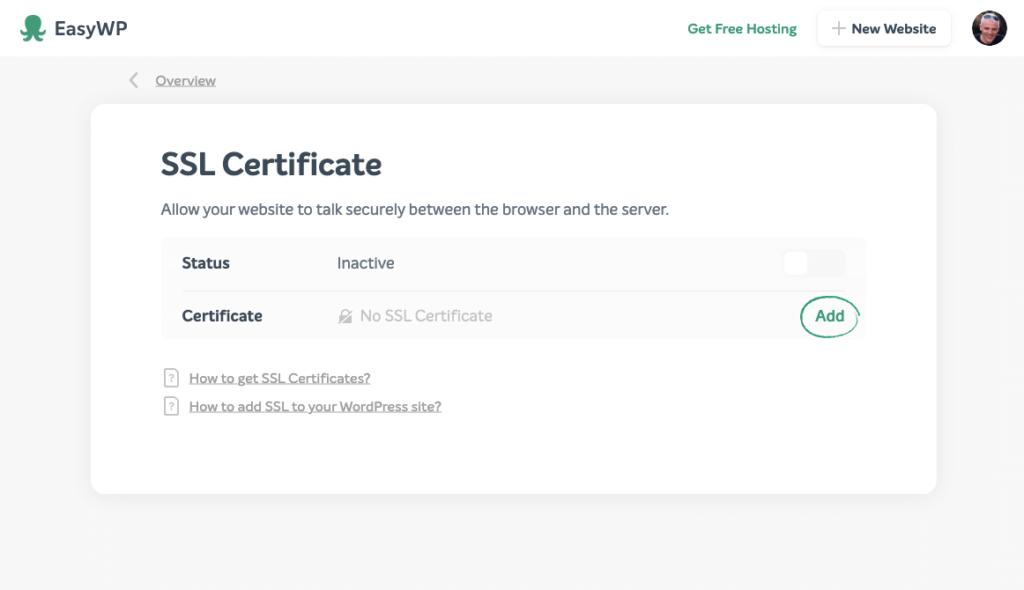 To activate the PositiveSSL Certificate, click the 'Change' button.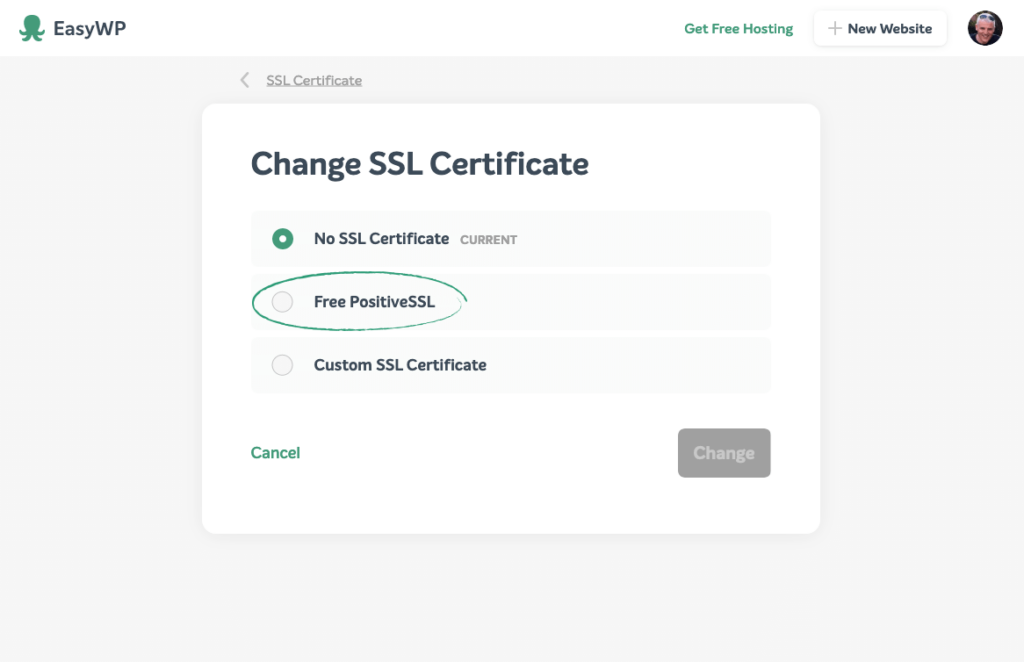 That's all it is.
Now that you've finished, EasyWP will begin the process of adding your SSL Certificate. This could take several hours. Meanwhile, you are free to close the window and go about your business. EasyWP Namecheap can renew your SSL automatically and at no charge to you.
Now is the time to secure your website.
If your site is secure, you could concentrate on things like expanding your business, creating content, and engaging in several other online activities without having to worry regarding internet dangers and the related costs. Getting a free PositiveSSL implies that you have all you need to build your business securely in the online world.
Namecheap take pride in using the best security tools, such as PositiveSSL, to support an open internet that is safe for everyone at EasyWP. So, be safe out there.